Dr. Belinda 'Otukolo Saltiban announced as new UVU chief inclusion and diversity officer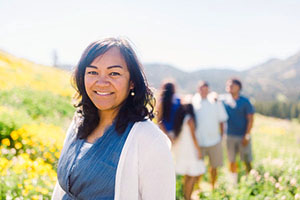 Dr. Belinda 'Otukolo Saltiban received her Ph.D. from the Department of Education, Culture & Society at the University of Utah in 2012.
Congratulations, Belinda from the ECS Department!
From UVU News - Nov. 5, 2018
Utah Valley University officials today announced Dr. Belinda 'Otukolo Saltiban has accepted the position of chief inclusion and diversity officer (CIDO), and will begin her official duties on November 19, 2018.
Dr. 'Otukolo Saltiban comes to UVU after serving for more than five years at the University of Utah in the Student Affairs division, most recently as the assistant dean of Undergraduate Studies. In that role, she worked to ensure that the ideals of inclusive excellence were integrated into the educational, cultural, collaborative, and strategic vision of the university. She also served as chair of the University Resources for Inclusion and Education (URISE) and the Campus Climate Steering Committee.
In her new role, Dr. 'Otukolo Saltiban will provide leadership in areas that promote inclusion, diversity, equity, access, and opportunity. She will work directly with the Office of the President, building on UVU's nationally recognized strategic Inclusion and Diversity Planand efforts, and will oversee the university's Inclusion Committee.
"I am most excited to engage with UVU's campus community and build on its highly successful inclusion plan," Dr. 'Otukolo Saltiban said.
She received a bachelor's degree in sociology and in human development, a master's in social work, and a doctorate in education from the University of Utah.
###
About Utah Valley University
At nearly 40,000 students and growing, Utah Valley University is the largest public university in the state of Utah, and one of a few in the nation offering a model that combines the rigor and richness of a first-rate teaching university with the openness and vocational programs of a community college. UVU's unique model, which focuses on student success, engaged learning, rigorous academic programs, and faculty-mentored research, is transforming higher education by making it more affordable and accessible to students of all backgrounds.
University Marketing &Communications:
Barb Smith
801-863-5274 | barbara.smith@uvu.edu